"Jacqueline Koh
Plant your own garden and decorate your own soul, instead of waiting around for somebody to give you flowers"
Monday, March 26, 2012 || 6:07 AM
Weekends have been really well spent.
Kat was over in town with her sis, Christine. On Friday after work, went to spend a little time and brought them around shopping areas. They went on a huge shopping spree, hands were full of paper bags. Gotten myself a sleeveless army green trench (yay! who says we can't wear trenches in Sg?! Sleeveless trenches = ultimate win for sunny hot weathers) & a flow-y printed wraparound top. I shop pretty fast, i know what i want for myself, it's a very fast screening of clothes, and ta-dah, purchase done. Fuss-free shopping. Christine shops by the outfit, when she purchases something, she makes sure she has the entire look charted up. It's top to toe : Top/dress/bottom/belt/shoes/

accessories, while on the flipslide, Kat categorizes clothes into either 'happy' or 'sad/serious' colours.
'It's okay, there's enough space for ONE serious dress' : when me &

Christine

egged her on to buy this gorgeous grey-ish black dress.
Brought them to Arab street & Bugis Street to experience the hippy culture and alternative shopping destinations in Sg. It's so funny how STOKED they were when they realized almost everything in Bugis were for $10. They were mentally deciding which clothes to refund tomorrow when they hit town again.
'I am SO going to return this! I can buy three or four tops with this!'
It was so much fun shopping with these girls really, laughed so much and hard :)
Met syah on sat, had lunch and caught up with her. She left halfway for an interview, while i trotted off to National Library for my personal great voyage in search of Carine Roitfeld's 'Irreverent'. Held the large and thick hard black shell in my hands and reclined into a corner spot devouring the images and words of the editor in chief of Vogue Paris.
It's hilarious how some people say they can die, or kill for fashion, it's a whole load of bull. Nobody would die for fashion, not even seemingly ruthless, top in the fields. I couldn't exactly remember word for word what she said, but it was something along the lines of
'After all, it's just clothes. My greatest pride would be my family.'
And during work, I interviewed a fashion director of a particular magazine, he commented
'If anybody think of that, they should be shot.'
Hopefully, years down the road, i hope that my biggest achievement would not be my career, or the number of Hermes bags sitting on vintage wood, but the fact that I have established a loving family :)
But if it's Mr Karl Lagerfeld, then his words would have to be analyzed and viewed from another perspective. Anyone who washes their hair in dry shampoo in order to make it white pretty much thinks in a different frequency from others. But you got to admit, it IS pretty clean and sharp looking.
Sunday was pretty crazy, woke up at 6AM for my driving lesson, mind was so fogged with sleep I couldn't very much remember which was the clutch, brake and oil.
Met up with the 'typical' clique, was supposed to go Antoinette, but the placed was so packed. Hopped over to Wild Honey, but had no luck again. Decided to go to TWG. *Sigh* Such a pity, i can't drink tea. I really miss savoring tea, it's almost better than coffee. Healthy, refreshing, and the fragrance works almost like therapeutic oils. Enjoyed every single moment with you guys so much. Love how every single one of us like to enjoy life, bask in good ambiance, savor quality food and express our materialistic desires without getting judged. Because we know each other too well to harness the thought that any one of us are *gasps* shallow beneath the seemingly 'superficiality'.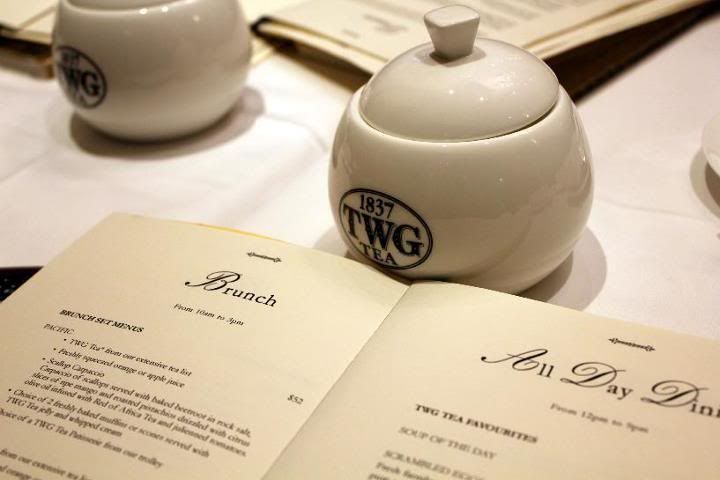 'Baby blue boxes are so last season. Embrace Cartier's Red ones'
Red IS the color of passion anyways, and i bet my tall tanned and lovely would agree to it.
Gotten news that two of my cousins are in town to learn some skills! Mechanic skills I think. My entire family met them up to have dinner together at JPOT! I was late, and when I was in the restaurant, I saw that the two brothers were getting condiments at the side. Went over and said hi. They couldn't recognize me! Everybody changed so much, it's nice to see everyone maturing. It was definitely nice to catch up, and I really hope we would be able to have dinner every once in a while! Even though it's family ties, everyone still has to work hard to preserve it well :)
Hard work will pay off, the higher powers above are watching at us. Quoting namesake or was it her BF, can't remember 'I imagine the gods giving us a tick on their score-sheets.'
Dad bought me a pair of tangerine orange flats too! I think the shape and texture is sculpted after ballet flats, but these are functional ones peck peck! Orange goes really well with tanned skin! But too bad my skin isn't sun-kissed like how it used to be anymore.
Lastly, thank you, thank you for my wonderful friends, and family -the people who loves me unconditionally. So blessed :)