"Jacqueline Koh
Plant your own garden and decorate your own soul, instead of waiting around for somebody to give you flowers"
Friday, April 13, 2012 || 10:06 PM
Shopthemag.com is launching a B.A.D (Backing Asian Designers) campaign. The purpose of this campaign is to create greater awareness and highlight pieces and designs of Asian Designers.
I believe many Asian Designers would feel that they do not have enough opportunities and support, so much so that this lacking area disables them to reach a certain standing point in the fashion industry.
As much as i love my Louboutins and even though i still feel giddy with excitement whenever i watch a Dolce & Gabanna show, i believe that brands such as Blackheart, Tangram, Reckless Ericka and Disaya amongst many others deserve more recognition.
Much more recognition.
Do you know that Disaya is one of Taylor Swift's favorite labels? And Blackheart is stocked in London's Topshop?
" At the dawn of a new decade, authenticity and individuality are what we crave - not the globally branded " - US Vogue, March 2010
How can you contribute to this cause?
1. Raid your wardrobe! Do you happen to own any Asian Designer items?
If your answer is Yes,
Good for you! Take an outfit picture, and send it to info@shopthemag.com
If you do not own any Asian Designer pieces currently, maybe you could do some research about it, and have a look at their works! You would be blown away, i promise!


P.s, Shopthemag.com stocks an array of wonderful labels in the Asia region ;)
The album compilation of people supporting Asian Designers can be found at http://www.facebook.com/shopthemag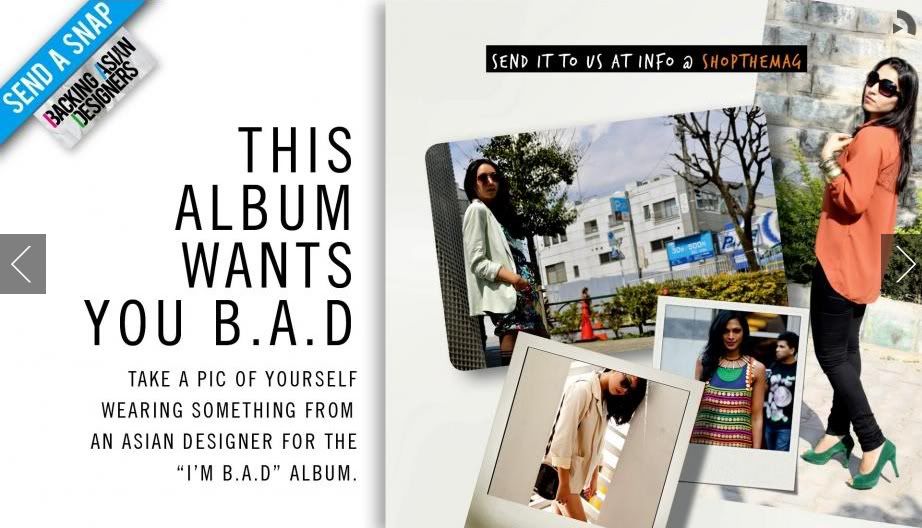 In addition to the photo album, there would be fashion insider interviews as well, which would be uploaded at http://www.shopthemag.com/blog
Listen to what Kenneth Goh, (fashion director of Harper's Bazaar), Silvia Siantar (Fashion celeb blogger), Sheila Sim (Super model), Marc Teng (Celebrity Hair & Make up artist) has to say about the Asian fashion industry!
This is not all yet! There would also be a $1,000 wardrobe giveaway, sponsored by shopthemag.com.
Further details would be unveiled at a later date in Australian celeb blogger site: karencheng.com.au
Mark these sites! B.A.D is the new good ;)
Asian pride FTW!